Nuovo tour per l'armonicista californiano Andy J. Forest, con uno spettacolo carico di energia, di ritmo e di emozioni, che lo hanno accompagnato nelle sue pių recenti tournče all'estero, dove si č giā affermato come uno dei pių prestigiosi bluesman del panorama attuale; infatti l'attivitā di Andy non si alterna solamente tra Italia e USA, ma si č allargata ad altri paesi come Svizzera, Belgio, Olanda, Austria, Inghilterra, Francia, dove costantemente e pių volte all'anno partecipa ai maggiori blues-festivals, e Canada (anche questo č un appuntamento fisso ogni anno.
Parlare di Andy č estremamente facile, č un artista talmente autentico, fantasioso e versatile, un incredibile istrione, che si potrebbe scrivere di lui per ore e rimanere sempre qualcosa da dire: č conosciuto ovunque per i suoi concerti entusiasmanti, per i suoi brani robusti e sornioni, per la passione con cui li suona, in un modo unico e spontaneo, che ha perfezionato negli anni con le lunghe tournče, in giro per il mondo, e con la lunga permanenza a New Orleans, sulle rive del Mississippi, una terra dove le culture si mescolano da sempre e la musica si arricchisce di tanti colori: ciō che Andy vuole trasmetterci con la sua grinta e capacitā espressive.
Molteplici le sue collaborazioni artistiche, fra le pių autorevoli: Albert King, Albert Collins, Robert Cray, Canned Heat, Stevie Ray Vaughn, Buddy Guy & Jr. Wells, Magic Slim, Otis Grand, Johnny Winter, Taj Mahal, James Cotton, Champion Jack Dupree, Willy De Ville e il mitico B.B. King. Ancora pių numerosi i festivals , in Italia e all'estero, che lo hanno visto come indiscusso protagonista: Montreaux Jazz Festival - New Orleans Jazz and Heritage festival- Lugano Blues to bop - Ottawa Citizen Blues Festival - Cognac Blues Passion - Antwerpe Parkblues Festival - san Remo Blues - Pistoia Blues - Trois Rivieres - Sherbrooke - Tamines - Beermem Blues Festival - Amsterdam Blues Festival - Lokerse Feesten - Annency - Tiferno Blues festival - Gulf Shores Shrimp festival - Bellinzona - Narcao - Nave Blues - Detroit International Blues Festival e molti altri......
Andy inoltre si č cimentato come attore (12 film al suo attivo, lavorando al fianco di personaggi come Toshiro Mifune, Irene Papas, Ernest Borgnine, Senta Berger, ecc....) come testimonial pubblicitario, come pittore e come scrittore (il suo primo romanzo LETTER FROM HELL, pubblicato nel 99, insieme al cd omonimo, ha ottenuto notevoli consensi di critica e di pubblico).
E Andy continua a scrivere, come sempre, tutti i testi dei suoi pezzi, finora pių di 100 e tutti blues, stile New Orleans, incisi in ben 13 cd.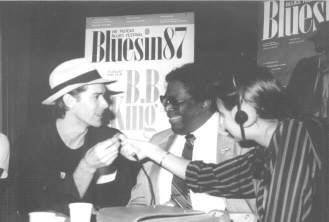 Andy e B.B. King

Andy J Forest in concerto